PUMA FOOTBALL REVEALS NEW FEDERATION KITS THAT CELEBRATE WHAT IS AT THE HEART OF THE FOOTBALL FAN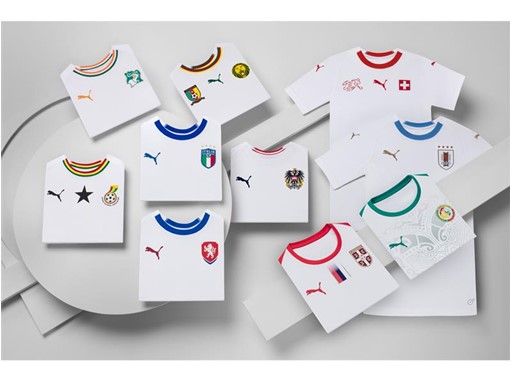 Today PUMA revealed a series of new kits for the brand's national team Federations to be worn in the March international window and beyond. Unified by color, each shirt celebrates the elementary design features of each Federation; including badge, flag or iconography, allowing the supporting nation to shine through.
Under one design language, PUMA has created a kit design story that is clean, stylish and free of distractions. Each kit is distilled to the unique and core elements that represent each Federation; from the nine blue lines on the neck of the Uruguay shirt that represent the nine original departments of the nation to the red of the national flag on the collar of the Swiss Jersey.
"When our Federation's step out onto the pitch they all play with a nation's support, and a passion for the crest that adorns their chest. With this clean, contemporary design statement, we wanted to strip back all the noise and elements that stand between our teams, players, and crowd, to celebrate what they play for, the badge, the flag, and the fans." STEFANO FAVARO, PUMA TEAMSPORT CREATIVE DIRECTOR.
Each design incorporates PUMA's evoKNIT thermoregulation technology delivering an enhanced moisture management and adaptive cooling system that helps create the perfect on-pitch body temperature. The immaculate white design highlights the shirts engineered evoKNIT cooling fins and seamless construction that push the boundaries of performance.
This summer Switzerland, Uruguay, and PUMA's newest partners, Senegal and Serbia will all pull on these new white jerseys. On the world's biggest stage, under the lights of the stadium, our teams will illuminate the game in immaculate style.
###
PUMA is one of the world's leading Sports Brands, designing, developing, selling and marketing footwear, apparel and accessories. For over 65 years, PUMA has established a history of making fast product designs for the fastest athletes on the planet. PUMA offers performance and sport-inspired lifestyle products in categories such as Football, Running and Training, Golf, and Motorsports. It engages in exciting collaborations with renowned design brands to bring innovative and fast designs to the sports world. The PUMA Group owns the brands PUMA, Cobra Golf and Dobotex. The company distributes its products in more than 120 countries, employs more than 11,000 people worldwide, and is headquartered in Herzogenaurach/Germany. For more information, please visit
http://www.puma.com
.
CONTACTS
Julien Lanfrey

International Public Relations

Germany

-
MORE FROM LATEST NEWS