Reus and Agüero go Head to Head with the Deadly evoSPEED 1.3 Graphic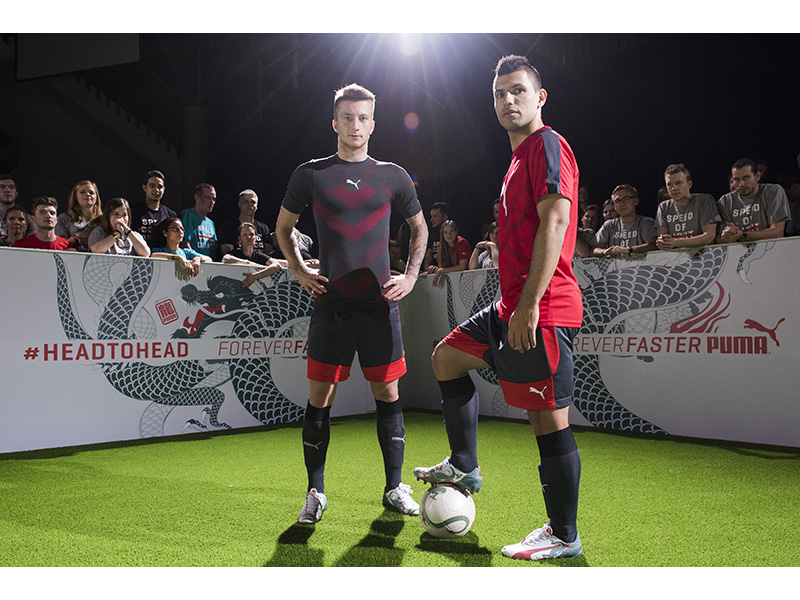 Dragon Boot Inspires Even Greater Skill and Faster Action
For the launch of PUMA's new evoSPEED 1.3 Graphic, Manchester City striker Sergio Agüero and Borussia Dortmund midfielder Marco Reus met up for another unusual football encounter. The competition was fierce as the two players went Head to Head, making use of all the skill, speed and agility in their armoury. Hundred fans were dazzled by the tricks on show in an undisclosed location in Germany.
This epic Dragon clash took place on the square pitch that was first introduced earlier this month ahead of the Manchester Derby, when Radamel Falcao and Sergio Agüero took each other on. The special pitch has four goals covered by sliding doors that are operated by the fans to keep the players on their toes. As one goal opens another one shuts in a new style of football that tests the players' every ability.
Sergio Agüero said at the event, "As I already had the chance to test the square pitch a few weeks ago against Falcao, I thought I might have a small advantage over Reus knowing the pitch, the turf and the switching goals. But I have to admit, that guy is really talented, so my lead lasted unfortunately only a few seconds. I love this pitch and it's really fun, especially when playing against some new players who you don't get to meet every day in training."
Marco Reus commented, "I am sure you can see it in the film, but I can re-assure you that Agüero really gave me a hard time. He is so quick and so ambitious and it was definitely hard to keep up with him. The switching goals were challenging in the beginning, but once it clicked, it is a really cool concept, because you can never really anticipate what happens next. This was definitely one of the best things I have done with PUMA so far."
To view the two PUMA players show off their skills, see them tackle each other, and find out who wins, click on the following link to watch the film:
https://youtu.be/5XNu-ohDiJs
To embed the film, please use this code: <iframe width="560" height="315" src="https://www.youtube.com/embed/5XNu-ohDiJs" frameborder="0" allowfullscreen></iframe>
PUMA today released its latest graphic concept football boot, the evoSPEED 1.3 Graphic. Created with dazzling attention to detail, this new boot takes its inspiration from the Japanese dragon, a traditional symbol for speed, power, wisdom and agility. Along with Sergio Agüero and Marco Reus, the white, high risk red and sea pine coloured boot will be worn by Radamel Falcao, Antoine Griezmann, Marco Verratti, Santi Cazorla and many more.
The boots are available to purchase on puma.com from May 1, 2015.
CONTACTS
Public Relations

Director of PR

United States

public.relations@puma.com

--