PUMA Launches 2012 African Football Kits Through A Unique Artist Collaboration And Exhibition At Design Museum, London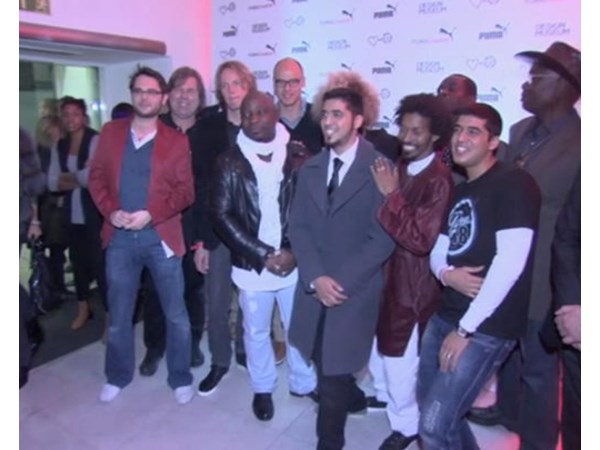 LONDON, UK Global sportlifestyle brand PUMA® has revealed an inspiring and contemporary collaboration, launching technical football kits for PUMA's 10 partnered African National football teams. Each kit is designed by a renowned artist from the Creative African Network (CAN) – a PUMA platform connecting and promoting artists from and in Africa. This unique collaboration is complemented by a month-long exhibition at the Design Museum, London that showcases the artists' design inspirations.
Today's unveiling at the Design Museum in London, brought together high profile football players and CAN artists from each of the 10 PUMA partnered teams, including Samuel Eto'o of Cameroon, John Mensah of Ghana and Yaya Touré of Ivory Coast. With the 2012 Orange Africa Cup of Nations® fast approaching, the event was the perfect platform for PUMA to demonstrate how the brand has fused its work within sport and art, seamlessly bringing together two worlds that don't often collide.
Central to the project is PUMA.Creative (a programme of PUMAVision), that brings together individual artists and organizations, and provides them with a platform for creative exchange and international exposure. Through PUMA.Creative's CAN programme, artists were commissioned to design a football jersey inspired from the country's heritage, culture and traditions. Ten artists worked with their home nation to create unique and inspiring designs for the official football kits.
"PUMA has been at the forefront of integrating the two disparate worlds of sport and art, and today through a celebration of football, art, colour and culture, we have shown to the world how these two spheres can be uniquely combined," comments Franz Koch, CEO of PUMA SE. "PUMA has a long standing history with Africa, and this event demonstrates how as a brand we continue to be fully committed to our relationship with the continent."
PUMA has worked with the Design Museum in London to launch a month-long exhibition 'Interpretations of Africa: Football, Art and Design' to celebrate PUMA's inspired new football kit designs for the 10 PUMA partnered African National football teams.
The exhibition will feature original artwork and sketches alongside development work and the resulting final football kits created by the artists involved, including Barthélémy Toguo of Cameroon, Zineb Zedira of Algeria and Godfried Donker of Ghana who have all become renowned in the art world for their emotive and captivating work. The other artists representing their nations are: Saïdou Dicko of Burkina Faso, Ernest Düku of Ivory Coast, Owanto of Gabon, Hentie van der Merwe of Namibia, Samba Fall of Senegal, Hasan and Husain Essop of South Africa and El Loko of Togo.
Alex Newson, Exhibition Curator, Design Museum, London adds, "As a design challenge, creating a new national football kit is a complicated and demanding brief. The results of the collaboration between PUMA and the group of celebrated artists are remarkable and testament to the talent, pride and passion evident in both African art and football and this exhibition charts this unique journey."
The exhibition is open for public viewing from November 8 – 27, 2011, 10.00am – 17.45pm.
For further information please visit:
www.pumafootball.com
,
vision.puma.com
,
www.designmuseum.org
CONTACTS
Public Relations

Director of PR

United States

public.relations@puma.com

--