PUMA AND FC KRASNODAR ANNOUNCE PARTNERSHIP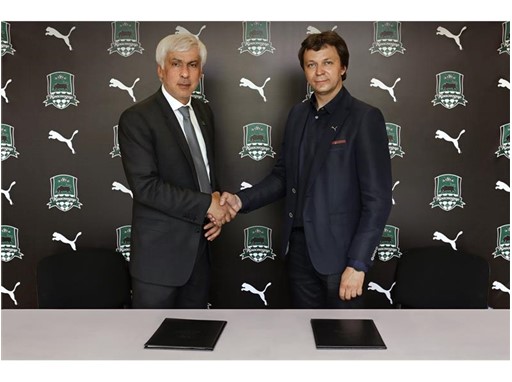 PUMA and Krasnodar Football Club have announced a long-term partnership. Effective from August 1st, PUMA will become the official kit partner of FC Krasnodar. PUMA will provide the team with innovative kits as well as produce high-end performance products for the youth players of the Krasnodar Academy and School, with the aim of helping them become the fastest sportsmen on-pitch.
In addition to producing the playing and training kits for the Krasnodar teams, Krasnodar Academy and School, PUMA has acquired the licensing rights to develop, produce and sell Krasnodar branded merchandise and Sportstyle apparel. PUMA and FC Krasnodar will work together to activate the partnership, through marketing campaigns and consumer activations that target fans across the country.

PUMA continues to define itself as the clear number three football brand, with a strong portfolio of clubs and national teams including the 2015/16 Premier League winners Leicester City FC, Arsenal FC, Borussia Dortmund and the FIGC (Italian Football Federation). The Global Sports brand has also bolstered its player portfolio in recent years with international players including Sergio Agüero, Marco Reus, Cesc Fàbregas, Mario Balotelli, Antoine Griezmann and Olivier Giroud.

Sergey Morschakin, Head of Sales for PUMA Russia said, "We are proud to extend our football club portfolio and partner with FC Krasnodar, such a prominent Russian football club. We always keep an eye on talented teams in all markets, and support them with innovative products to become Forever Faster".

Miroslav Ryba, Area General Manager for PUMA Russia, Turkey, Ukraine, Kazakhstan & CIS said: "FC Krasnodar embodies our brand values of brave, confident and joyful, we have a strong synergy with the club. Krasnodar is known for their focus on youth players and for us this is exciting. We are looking forward to the new season with club and the fans".

Vladimir Khashig, CEO of FC Krasnodar said: "FC Krasnodar starts a new page in its history. Our philosophy includes innovation in everything we do. We aim to support all Krasnodar teams with the best technology and our partnership with PUMA helps drives this forward. We are focused on the development and new victories together with our new partner, PUMA".

CONTACTS
Collette Ewbank

International Public Relations

Germany

+49 9132 81 2705

+49 1514 4877496