PUMA & FIGC PRESENT NEW ITALY AWAY KIT THROUGH 3D STREET ART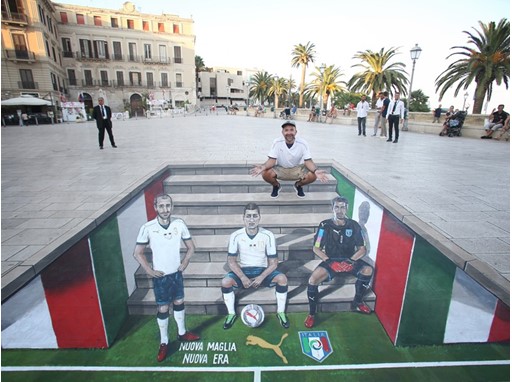 Mural of Verratti, Buffon & Chiellini Reveals a New Shirt For a New Era to be First Worn in Italy v France Game Tomorrow Night in Bari
PUMA & FIGC (the Italian Football Association) revealed the design of the new Italy away kit yesterday with a modern anamorphic approach. As the sun rose across Southern Italy, renowned artist's 3D Joe & Max were hard at work painting a large mural of Marco Verratti, Gianluigi Buffon and Giorgio Chiellini wearing the new kit, with a 3D effect that drew a big crowd in Bari's Piazza del Ferrarese. This new shirt for the next era of Italian football will be worn for the first time on pitch when Italy play France in Bari tomorrow night.
As Gli Azzurri look ahead to the qualification campaign for the 2018 FIFA World CupTM under the new leadership of Gian Piero Ventura, this new Italy away kit has a new innovative design to mark this next footballing chapter. The secondary colour to the traditional white moves away from azzurri blue to navy – visible underneath the v neck collar, sleeves and bottom of the shirt with a carbon fibre sublimation print that carries an essence of speed and power. A structured jacquard graphic is derived from the FIGC crest with a dynamic chevron effect on the chest, keeping the nucleus of Italian flair but with a fresh energetic design. Longer sleeves complete the sleek and modern look. Furthermore, the shirt has a similar broad design to the 2006 away kit to mark the 10th anniversary of Italy winning the FIFA World Cup in Berlin.
See a video of the illustration here: https://youtu.be/FCxA8kYm820
You can embed these film using the embed codes here: <Iframe src="https://www.youtube.com/embed/FCxA8kYm820" frameborder="1" allowfullscreen></Iframe>
Marco Verratti, Italy's Midfield Maestro & PUMA player; "I like to see new shirts being revealed in interesting ways, through this street art we can reach our fans and give them a great experience of the Italian football team. The shirt is a beautiful one and the all players look forward to wearing it as we begin new challenges on the way to Russia."
Joe Hill of 3D Joe & Max added, "Italy is such an icon of world football, it was a real honour to create this 3D Street Artwork to show the new shirt design. PUMA has great vision for unveiling new products and is a brand we admire for that, we were very happy to give Bari and Italy a taste of our work and hope they enjoy it."
The 3D mural will remain in Piazza del Ferrarese for the next two days, as Italian fans gather ahead of the friendly game against France tomorrow night. #ForeverItalia
The new Italy away kit is available to buy from today. See www.puma.com/italy
CONTACTS
Katie Sheptyck Gregory

Head of PR

United States

978-698-1295

978-996-3963