NICO ROSBERG SETS SPORTING STARS FORMULA ONE™ CHALLENGE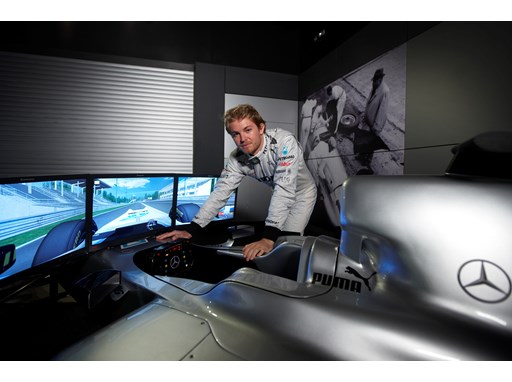 Herzogenaurach, Germany (6th September 2012) – This summer, Formula One Star Nico Rosberg of the MERCEDES AMG PETRONAS Formula One Team, challenged some of the best from the world of sport to try their hand at Formula One. PUMA RACE OFF sees sporting stars such as Sergio Agüero, Cesc Fàbregas, Bacary Sagna, Michael Carrick and many more given the chance to prove their talent in the world's fastest sport - the winner will have the opportunity of a driving lesson from Nico, before putting their skills to the test in a high-performance Mercedes-Benz car around a real racing circuit. Challenged with driving the legendary Monza race track, all participating players were given a training session on a fully authentic MERCEDES AMG PETRONAS simulator before being let loose on the circuit to record a time. Egos are hurt and pride is bashed as many of the players discover that driving a Formula One car is not as easy as it looks as they fight for pole position on the PUMA RACE OFF leader board. Starting today, PUMA will launch two new videos every week, showcasing individual player performances on the famous Monza race track which can be seen at:
www.puma.com/motorsport/raceoff
.Before his own performance in the simulator, Cesc Fàbregas said, "If you watch a sport from the outside, it always looks easy. In football, many people in the stands think it must be simple, but I can tell you, as soon as you get onto the pitch, things turn out to be a lot more difficult. I am sure this is the same thing for the Formula One drivers, so I would love to get the chance to once step into Nico Rosberg's shoes to drive a proper high-performance car on a circuit." Nico Rosberg commented, "PUMA RACE OFF is a very interesting concept and I really like the idea of merging different sport categories. And," he added cheekily, "I am intrigued to see how all these top athletes perform in a real sport!"Check out how Nico Rosberg sets the standard in this star competition and find out who will be the fastest to challenge him on
www.puma.com/motorsport/raceoff
. New videos will launch every week until the 4th October 2012. Follow PUMA Motorsport Facebook and @PUMAMotorsport on Twitter for regular updates.
CONTACTS
Collette Ewbank

International Public Relations

Germany

+49 9132 81 2705

+49 1514 4877496