IAN POULTER GETS AN 'ARSENAL' SEND OFF AHEAD OF THE OPEN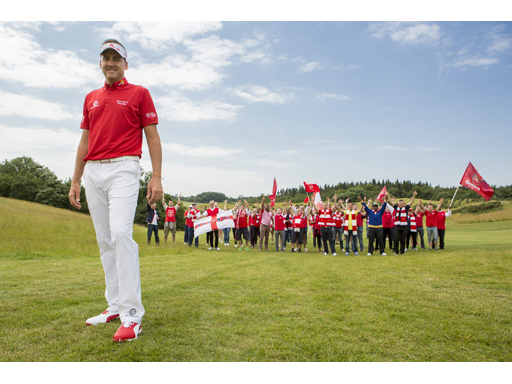 IAN POULTER GETS AN 'ARSENAL' SEND OFF AHEAD OF THE OPEN
Golfing Gooners' Give Poulter A Little Taste of the Terraces
London, United Kingdom (15 July 2014) – As Ian Poulter goes through his final preparations for The Open this weekend, the Englishman experienced a rather unusual encounter from a passionate group of Arsenal supporters. The Golfing Gooner was given a little help from his fellow fans who brought some terrace atmosphere to the normally quieter golfing fairways. The day became even more interesting when Poulter found Arsenal legend Freddie Ljungberg had taken the place of his caddie.
Ian Poulter once said home support really drives him on when he plays tournament golf in Britain, especially at The Open or Ryder Cup. With his passion for football, PUMA arranged for an Arsenal contingent to give him a special send off for Hoylake.
Ian Poulter said: "Home support means a lot to me in England, it's always inspiring and motivating to hear the fans cheering you on through eighteen holes on home soil. Obviously I've seen Arsenal play a lot throughout my life, and I've been lucky enough to be involved in some very passionate Ryder Cup matches in recent years, so being part of this film that brought Arsenal fans together with a very different spectator sport like golf was a fantastic and unique experience."
To view the video of Poulter's Arsenal fan experience click here:
https://www.youtube.com/watch?v=MyEAQh-Euo0
To embed the YouTube video into your website please use the following YouTube embed link
iframe width="560" height="315" src="//www.youtube.com/embed/MyEAQh-Euo0" frameborder="0" allowfullscreen>
The Arsenal and Ian Poulter video was released by PUMA, Arsenal's new technical kit partner.
CONTACTS
Public Relations

Director of PR

United States

public.relations@puma.com

--