Agüero and Falcao Go Head To Head, Warming Up to the Manchester Derby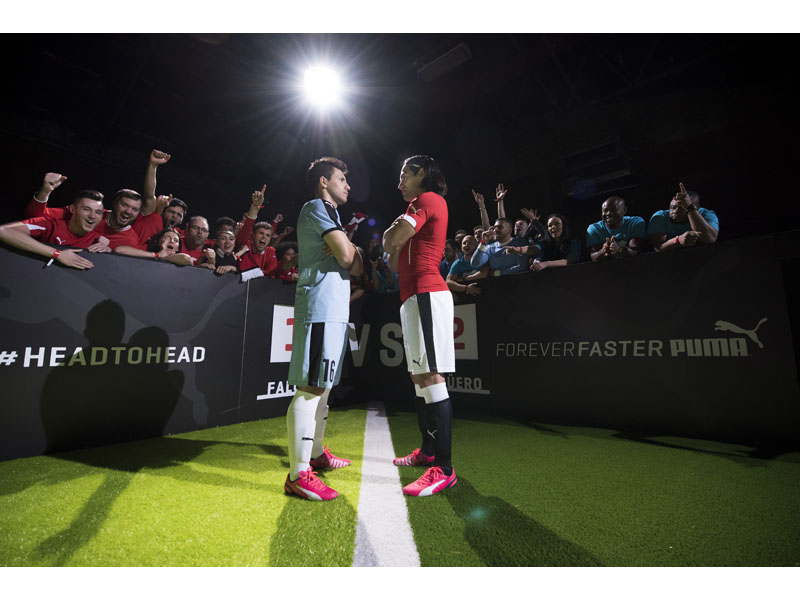 PUMA Players Take Each Other On In One on One Showdown Ahead of Sunday's Match
Ahead of the legendary Manchester Derby, Sergio Agüero and Radamel Falcao met up for a showdown at a secret location in Manchester. The two South Americans went Head to Head and showed of their skills, taking each other on in front of a hundred football fans in red and blue.
The clash took place on a unique square pitch, featuring four goals covered by sliding doors that were operated by the fans to keep the players on their toes. As one goal opened another one shut in a new style of football that tested the South American International's every ability. Agüero's guile and speed were a good match for Falcao's power and pace, with some outrageous skill on display.
Goal Machine Sergio Agüero said, "This was a lot of fun, the pitch and rules with the sliding doors was crazy. Falcao and I had a really good battle with me probably winning – he was very good, but not quite as good as me. I look forward to seeing him again on Sunday."
The International Superstar Radamel Falcao said after the game, "The atmosphere was amazing, football fans in Manchester are so passionate – it's one reason why I really like this city. Agüero is a very talented striker, but I was happy to show him a few tricks. It's a big day for us this weekend and this definitely builds even more excitement."
To view the two PUMA players show off their skills, see them tackle each other, and find out who wins, click on the following link to watch the film:
http://youtu.be/v1BYQ9j7FOs
Both Sergio Agüero and Radamel Falcao wear the PUMA evoSPEED 1.3 football boot for extra manoeuvrability and speed on pitch. The boots are available to purchase on puma.com now.
CONTACTS
Katie Sheptyck Gregory

Head of PR

United States

978-698-1295

978-996-3963